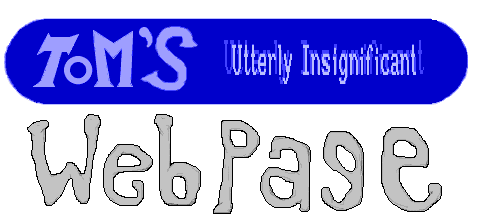 T O M M U R P H Y V I I ' S W E B P A G E


Welcome to Tom's Utterly Insignificant Web Page! Just another insignificant blip amongst all the other insignificant blips on the World Wide Mess!


Since I have an outrageously low disk quota of 2 megs, I'm going to dispense with all the pleasantries and get down to business! =)
Okay, never mind. A few pleasantries: Hello! Enjoy your stay! Would you like some peanuts?


HEY YOU SLACKERS



Snoot Is Here...
Snoot.com is a new web page I made -- check it out! Online games, a Choose Your Own Adventure story you help create, Funny news articles and essays, randomly generated recipes and haikus, and much more! You'll like it; Go there.



This page will suck if you aren't using NetScape 2.0+
(and it won't suck but it will crash a lot if you aren't using Netscape 3.0+)
[Mooseware][Tom][Silly][Spastic Moose][Art][Fonts][Questionnaire][Spoons][Anime][Break][Nutrition Facts]
[Naughty Words][Java][Thoughts][Html][Pi]
---
You might not be visitor number
.

---
Here is some of the Stuff to see on this page:
(Don't forget to check below, where you can send naughty words to some People In Power, and read nutrition facts on this page.)
Tom Stuff

Tom's Biography - Read about Tom's favorite Stuff, see some pictures, and hear his maniacal laughter.
Tom's Thoughts - Look inside the Brain of Tom 7, or answer some questions about the world for him!
Tom's Art - See some of Tom's Art here.


Other Stuff

Spastic Moose - Visit the official home page of America's Almost Favorite Band! MY band!
More Silliness - A collection of funny text files and links to other pages! And a funny picture of Reagan!
Project A-Ko and Other Anime Stuff - Various information and things about Japanese Animation.
The Official Thousand Spoons Page - See my inordinately large collection of spoons!

Computer Stuff

The Search For Intelligence In Pi - Search for intelligence, or look at some of the 'intelligence' we've already found!

Mooseware Games - Visit Tom's software company, and download some original games and other fun stuff!
[Divide By Zero] Fonts - A whole bunch of really cool original fonts, for free!
The Illustrated Guide To Breaking Your Computer - Learn the most satisfying ways to physically destroy your computer. With color photos and illustrations!
Stupid Html Tricks - Some lesser-known tricks in html, and ways to crash your browser.

And when you're done, Click Here to fill out my questionnaire!
---
&Quot; of the Flumpth:
"Time flies when you're setting your watch." -- Tom 7
---
Here are some other web pages I've made:
SNOOT.COM is a cool "new-media" online entertainment center -- stop reading about entertainment and be entertained. Interactively created content, randomly generated recipes, haikus and more, Stories and chess games by visitors (and you), not-so-news, cartoons, funny essays, and more!
Carnage Melon - Tom's web page at Carnegie Mellon University. - Another experiment in Manifest Destiny. My Quake modifications are free here, and you can read a short play I wrote in Physics class, as well as play SICO and Schizophrenic Fiction, see my #42 Posse, or download Manarags 2.
---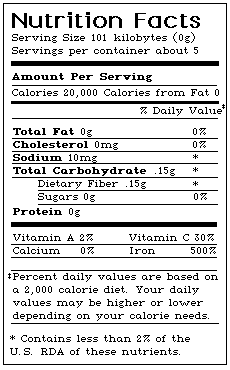 Big Brother is watching you.

DO NOT READ THE FOLLOWING PARAGRAPH
Okay, well it seems that we were victorious and we all get to swear again. (Thank you Mr. Constitution!) But don't let that stop you from fighting for your rights! Complacency helps oppression happen!
Fight online censorship! Click here for more information.


---
Chaoskids' Site of The Month for March 1997!

---
Please E-mail me!

ImightbeTM@aol.com


Don't just use it because it's cool; Download my PGP public key!
(or if you're e-mailing me at school, get my New PGP key.)
If you are afraid of e-mail, you can fill out my questionnaire, which is a little more painless. =)
This entire thing Copyright (c) 1996-1997 Tom Murphy 7 except for certain images and texts obviously taken from other sources (award icons, for instance). All graphics, text, programs and other files are protected by international copyright law! All rights reserved!!
This date line was last updated at 12:58 on 10.13.97!

[Top]